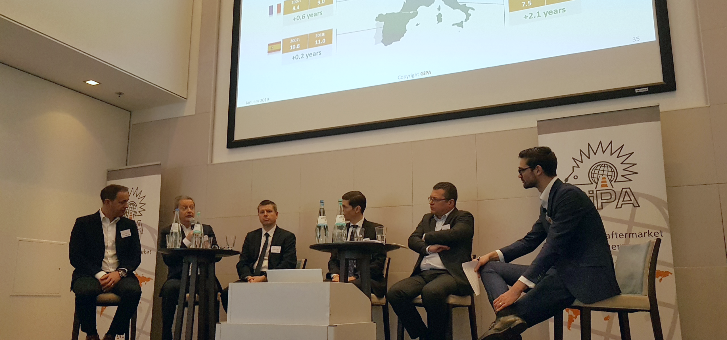 10th International GiPA Day a Roaring Success

Categories:

2019, News

Timelines:

Afrique du Sud, Allemagne, Amérique Centrale, Argentine, Brésil, Chili, Chine, Colombie, Espagne, France, Inde, Italie, Maroc, Mexique, Pérou, Pologne, Portugal, Royaume-Uni, Russie, ThaÏlande, Turquie, Ukraine, Vietnam, アルゼンチン, イタリア
Announcement Date :

30 janvier 2019

On the 18th January 2019 GiPA held its annual International GiPA Day in Frankfurt. For the 10th year in a row GiPA hosted automotive aftermarket leaders who have provided their expert insights into the future of the industry.

Not only was the International GiPA Day an opportunity to hear from the 'who's who' of the automotive aftermarket, but to also an opportunity to meet GiPA country managers from 12 different countries, many of whom travelled from around the world to Frankfurt for the event.

At the 2019 International GiPA Day, there were three primary topics of focus for attendees. These were:
Hybrids forecast for 2025, and how these vehicles will impact the aftermarket.
Millennials, and how their different in behavior to other generations is changing the way car maintenance is carried out.
A roundtable discussion about the ongoing concentration of the aftermarket, which included input from top brass management from

Euro Car Parts (Andy Hamilton – CEO),
Parts Holding Europe (Stéphane Antiglio – Chairman of the Board),
PSA Groupe (Christophe Musy – Senior Vice President of Aftermarket Services & Parts),
Tenneco (Massi Miliani – Executive Director), and
Volkswagen Group (Sylvain Charbonnier – Head of Sales and Marketing, Aftersales).
Looking forward to next year's International GiPA Day, we expect an even larger turnout with more key speakers of note participating. With the automotive aftermarket in such flux, we only expect the topics of debate to become more significant for the car industry as a whole.
For any additional information, please contact Quentin Le Hetet