Burada GIPA'nın en son haberlerini bulabilirsiniz!
The new customers of the Argentine automotive market and industry
4 August 2020

Learn more about the factors on the recovery rate the Argentine automotive market and industry will have in the face of the financial crisis due to the covid19.
Argentina is not unaffected by…
Daha fazla oku
What are the prospects for the after-sales in France?
27 July 2020

More than three months after the beginning of the lockdown, we have taken a new step following the announcements made on 14th June, i.e. the opening of restaurants and schools, towards – what we…
Daha fazla oku
Why are Germany´s car repairers doing so well during the Coronavirus crisis?
2 June 2020

Par rapport à d'autres marchés européens, l'Allemagne se porte relativement bien sur le marché secondaire de l'automobile pendant la crise des coronavirus. Alors que nous constatons une baisse…
Daha fazla oku
Perspective of the aftermarket business in Italy
13 May 2020


L'Italie a été le premier pays d'Europe occidentale à subir l'impact de la crise de Covid-19. Le 8 mars, le gouvernement italien a quarintiné le pays et fermé la plupart des entreprises.
Cette…
Daha fazla oku
Russian aftermarket specifics. Can we expect a recovery?
23 April 2020


Nous sommes tous en mode crise, mais quand cela frappe (comme en ce moment), les professionnels sont prêts à prendre les décisions sur la base d'une analyse solide. GiPA a agi rapidement pour…
Daha fazla oku
COVID-19 impact on the 5 largest European countries aftermarket
17 April 2020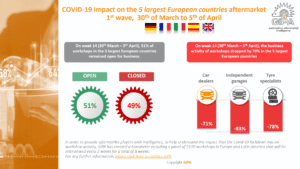 Daha fazla oku
Will electric vehicles kill the Spanish independent aftermarket?
19 March 2020


Spain´s automotive market will have a continuous increase in sales of electric vehicles (EVs), and there is a strong concern for the traditional automotive  stakeholders:  how will this…
Daha fazla oku
Variables that affect the workshop entries in the aftermarket in Mexico
20 February 2020

First important fact: The growth of the automotive aftermarket in a country highly depends on car registrations. With an increasing trend in car sales, usually the vehicle parc´s increase…
Daha fazla oku
First independent and multi-brand study on drivers of semi-automated vehicles and their vision on autonomous car
20 February 2019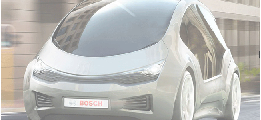 Advanced driver assistance systems have already an impact on roads by inducing a safer driving (accidents, insurance…).
Two thirds of drivers who own semi-automated vehicles are ready for…
Daha fazla oku
CITIES / MEGACITIES, A NEW AGENT INFLUENCE THE AUTOMOTIVE MARKET
6 February 2019


Odette Dantas, Deputy General Manager GiPA France will present the results of a global survey conducted in 2017 and 2018 interviewing drivers, in face-to-face, in 26 megacities and…
Daha fazla oku
10th International GiPA Day a Roaring Success
30 January 2019


On the 18th January 2019 GiPA held its annual International GiPA Day in Frankfurt. For the 10th year in a row GiPA hosted automotive aftermarket leaders who have provided their expert insights…
Daha fazla oku
URBAGORA: Save the date, 4-5 April 2019
29 January 2019

GiPA, founding member of the Megacities Institute will be happy to welcome you for its second event Urbagora dedicated to urban life and mobility.
Daha fazla oku
New Chief Executive Officer – GiPA
1 January 2019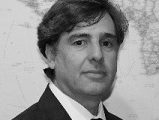 General Manager of GiPA Spain, Fernando Lopez, has been appointed Chief Executive Officer of GiPA, effective from January 1, 2019.
Fernando Lopez is now responsible for all countries where GiPA…
Daha fazla oku