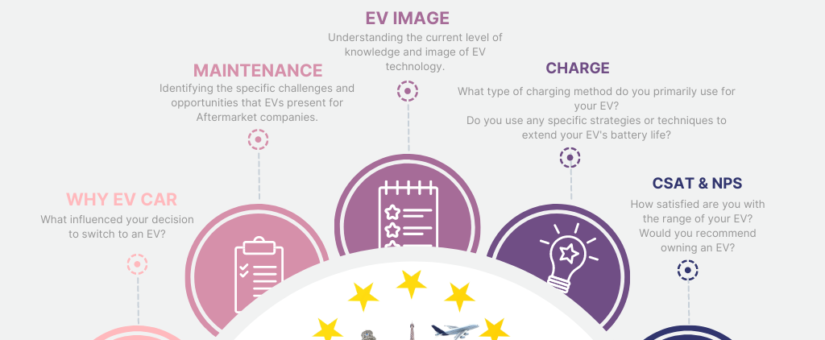 EV EURO TRENDS 2023

Categories:

2023, News

Timelines:

Argentina, Brazil, Central America, Chile, China, Colombia, France, Germany, India, Italy, Mexico, Morocco, Peru, Poland, Portugal, South Africa, Spain, Thailand, Turkey, Ukraine, United Kingdom, Vietnam
Announcement Date :

4 July 2023
EV EURO TRENDS 2023
The electric vehicle (EV) industry has been rapidly growing in recent years, with more and more consumers turning to EVs as a sustainable and environmentally-friendly mode of transportation.
As this industry continues to evolve, it is crucial for companies in the automotive aftermarket to stay up-to-date on the latest trends and consumer preferences in order to remain competitive.
To help and support spare parts manufacturers and distributors, GiPA conducted an in-depth research survey aimed at gathering information on consumer attitudes toward Evs including purchasing habits, brandpreferences, and overall satisfaction with the EV ownership experience.
Why GiPA EV EURO Trends 2023
Companies can benefit from EV Euro Trends Survey 2023 by understanding the current level of knowledge and awareness of EV technology among drivers, analyzing they behavior, usage and attitude.
The study will be conducted in the major European markets such as, France, Italy, Spain, UK and Germany plus Portugal, in addition to that the target is Private Drivers/Owners EV responsible of car maintenance has driven the car since at least six months.
With the EV Euro Trends Survey 2023 companies can identifying the specific challenges and opportunitiesthat EVs present for Aftermarket companies, such as changes in demand for parts and services.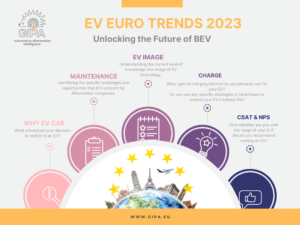 What's inside the EV Euro Trend 2023
GiPA EV EURO TREND 2023 answers to all your question regarding the EV market, such as:
How long have drivers been using an Electric Vehicle (EV)?
What influenced their decision to switch to an EV?
How often do they charge their EV vehicle?
What type of charging method do they primarily use for EV? (Home charging, public charging stations,workplace charging, etc.)
What are the differences perceived in their driving experience between EV and a conventional internal combustion engine vehicle?
But also,
What kind of tools or smartphone drivers use to locate charging stations?
How satisfied are drivers with the range of EV?
What specific strategies or techniques drivers use to extend EV's battery life?
How do drivers manage charging EV at home, considering electricity rates and optimal charging times?
Are drivers considering installing solar panels or other renewable energy sources to power your EV?
And much more!
Ask for more information about GiPA EV Euro Trends 2023 by contacting: communication@gipa.eu